Advanced Muscle Palpation (AMP) is an elegant form of spinal analysis that determines the level and listing of vertebral subluxation. Recognizing that the CNS is aware of its own biomechanical needs, AMP uses the sophisticated mechanisms of neurology to analyze vertebral subluxation.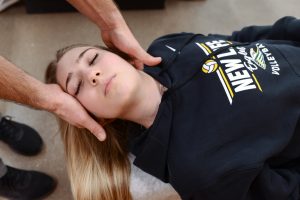 CHIROWAY® FAMILY
Advanced Muscle Palpation, LLC offers Franchises to State-Licensed Chiropractors for the operation of ChiroWay® Centers which offer Chiropractic Services to individuals and families, using a monthly flat-fee subscription model also known as membership chiropractic plans.
CHIROWAY® CHIROPRACTIC
The health care discipline that recognizes the innate recuperative power of the body to heal itself by identifying and caring for vertebral subluxations by emphasizing the relationship between structure and function as coordinated by the neurological system and how that relationship affects the preservation and restoration of health. The evaluation and facilitation of structural, biomechanical, and neurological function and integrity through the use of adjustment by manual forces applied to spinal bones or joints and their related soft tissues for correction of vertebral subluxation.
"We never know how far reaching something we may think, say or do today will affect the lives of millions tomorrow."
—

B.J. Palmer
OUR VISION
The ChiroWay Vision is to serve regular chiropractic care to promote the opportunity for a higher quality of life for infants, children and adults.
A network of multiple ChiroWay Centers locally owned by Chiropractors who are passionate about providing regular chiropractic adjustments through affordable membership plans that allows communities to benefit from convenient walk-in visits.